Support in London
We are here to support you whether you are looking for peer support or advice from a professional. Below you can find out more about our Specialist Huntington's Disease Advisers and local branch and support groups.
Specialist Huntington's Disease Advisers
Our specialist advisers are experienced and compassionate care management professionals. 
They support anyone who needs their help at any stage of the Huntington's journey. They can help people living with the disease, people at risk of inheriting the disease, family members and carers, and children or young people. They can even advise friends, neighbours, employers and your medical team.
Our Specialist Huntington's Disease Advisers can help by:
providing a listening ear, advice and emotional support

delivering our confidential telephone helpline service

coordinating support with medical, health and social care professionals

making referrals into specialist Huntington's disease clinics

advocating for the person with Huntington's disease to get the best support

organising and attending local support networks and carers' group meetings

providing information resources on symptoms and how to manage them

connecting younger family members with our Youth Engagement Service - HDYES

giving support for sensitive end-of-life care

educating medical, health and social care professionals
---
Branch and support groups
You can click on each branch and support group to find out more about the groups and where they meet. If you can't see one in your area and you are thinking about setting one up, please email branch@hda.org.uk and we can support you in doing this.
The Huntington's Disease Association London branch support group is run by volunteers to provide emotional and practical support to anyone affected by Huntington's disease in the local area.
We hold informal meetings on a regular basis, usually over tea or coffee, to offer support and advice to people affected by Huntington's disease. Our venues are spread across London, north of the River Thames, but anyone from across London is welcome to attend.
Prior to the Covid pandemic, we have run family days with guest speakers including Huntington's disease researchers and dieticians; we have had a representative from the Department for Work and Pensions, which our members found extremely useful.
Our social events include picnics and a garden party.
The London branch meets at different venues with the main meetings being held in the Highbury area. Currently meetings are also being held in Uxbridge and 'Pop Up' meetings in East London.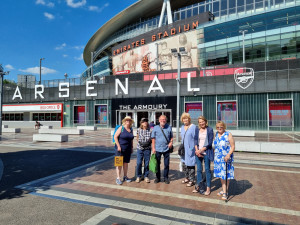 ---
Branch meetings
Meetings are held in the following places:
Highbury
Uxbridge
East London
---