You will find a selection of resources from other organisations on this page to aid in your care for people affected by Huntington's disease. 
---
The guides range from physiotherapy videos to guides on Occupational Therapy and resources for Dietitians and Psychologists.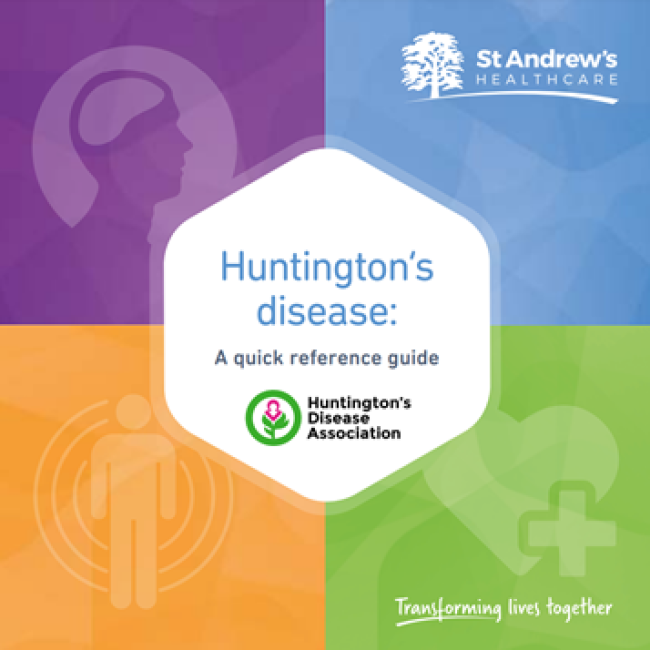 A reference guide to Huntington's disease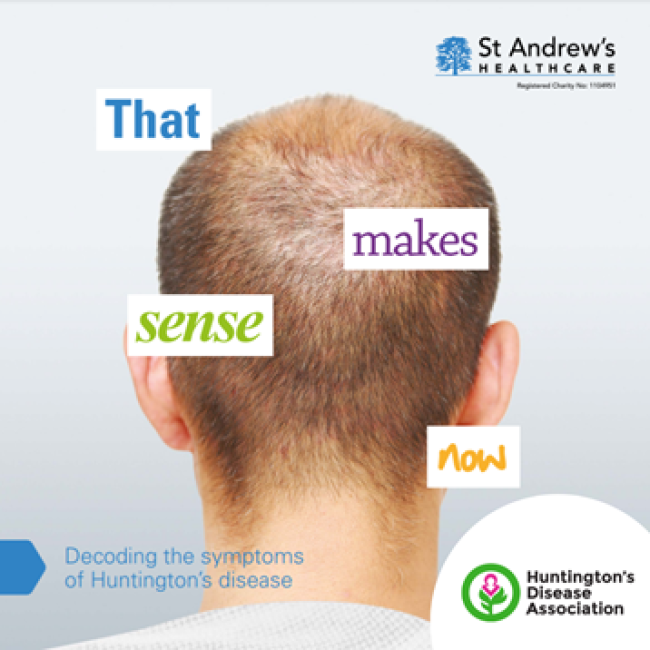 Decoding the symptoms of Huntington's disease
---
The European Huntington Association and the European Huntington's Disease Network hold a wide range of up to date information for Physiotherapists who are working with people with Huntington's.
---
Clinical guides
A key document for physiotherapists is the European Huntington's Disease Network Physiotherapy Clinical Guidelines. New physiotherapy clinical recommendations (2020 publication) are also freely available online. The 2020 article provides recommendations that are graded, based on a systematic review of available evidence and in some places by expert opinion. The 2013 document however does provide additional information on specific interventions and outcome measures that, although it is not possible to support them all by an evidence base, can support physiotherapists in managing people with Huntington's. Importantly, there are no contradictions between the two documents.
---
PAT-HD Physical activity tool for people with Huntington's
The physical activity tool is to help people with Huntington's to think about what physical activity they could do and then make a plan to increase or maintain their physical activity over time. It was designed with people with Huntington's disease, their families, specialist Huntington's disease advisers and healthcare professionals with funding from the Huntington's Disease Association. You can use this tool by yourself to make your plan. You can also use it to talk about your activity plans with your specialist Huntington's adviser, physiotherapist or other healthcare professional and then make your plan.
---
ENGAGE-HD physical activity workbook
The Physical Activity workbook (version 2 April 2020) is intended to be used to support people with Huntington's disease to plan regular physical activity with support from a physiotherapist. It includes information on goal setting and resources to help people with Huntington's disease stay active, and it is suitable to be used alongside the Move to Exercise DVD programme below. We advise that you ask your physiotherapist for guidance about the use of this workbook, and in developing and progressing your own physical activity goals and plans.
---
Move to exercise
This exercise programme has been developed by physiotherapists specifically for people with movement disorders. Exercise is not without its risks and this or any other exercise programme has the potential to cause injury. To reduce the risk of injury, consult your doctor or physiotherapist before beginning this exercise programme. Your physiotherapist should be able to help you identify which exercises will be most beneficial for you or if you should modify or omit any of the exercises in the DVD.
The exercises presented here are in no way intended as a substitute for medical consultation; the authors and producers disclaim any liability from and in connection with this program. As with any exercise programme, if at any point during your work out you begin to feel faint, dizzy or have physical discomfort, you should stop immediately and seek medical advice. Please use the move to exercise workbook alongside the videos below.
For Occupational Therapists
Occupational Therapy for people with Huntington's disease - Best Practice Guidelines
Occupational Therapy Clinical Tips for Huntington's disease - Seating and Posture
Occupational Therapy Clinical Tips for Huntington's disease - Self-care
Occupational Therapy Clinical Tips for Huntington's disease - Community
Occupational Therapy Clinical Tips for Huntington's disease - Domestic Skills
Occupational Therapy Clinical Tips for Huntington's disease - Eating and Drinking
Occupational Therapy Clinical Tips for Huntington's disease - End stage and Palliative care
Occupational Therapy Clinical tips for Huntington's disease - Sleep routine and Management
Occupational Therapy clinical tips for Huntington's disease - Social and Leisure
Occupational Therapy Clinical Tips for Huntington's disease - Work
Nutrition management of individuals with Huntington's disease
Psychological interventions for people with Huntington's disease, Parkinson's disease, motor neurone disease and multiple sclerosis
For Speech and Language Therapists
Management of speech, language and communication difficulties in Huntington's disease
Oral feeding in Huntington's disease: a guide for speech and language therapists