We hosted an in-person information and peer support event for young adults affected by Huntington's disease.
---
The day consisted of a range of speakers that focussed on topics relevant to young adults. The aim was to provide updates on research and studies, offer psychological support, provide information about our services and have a chance for young adults to meet others in a similar situation to them.
Great meeting other people of a similar age in a similar position and sharing advice and experiences.
---
Research and study update
Callum Schofield
Genetics Research Practitioner and Huntington's disease studies Co-ordinator from Chapel Allerton Hospital Leeds, provided an update on current research and studies for Huntington's disease in Yorkshire and Humber. Callum opened up a Q&A which involved many members of the group with quite a few questions about Enroll-HD.
Hearing the research being explained in a way that made sense and shared and shared a lot of new info that was helpful.
Psychological challenges and mental health support
Sarah Gunn
Clinical Psychologist and Researcher at the University of Leicester talked about the potential psychological challenges that can come with Huntington's, and how her therapeutic work helps to support people affected by it. There were three questions to discusses part of Sarah's research.
The three questions were:
Do you think it's important for young adults affected by Huntington's disease to have access to psychological support? If yes, why is it important?
What is mental health support like for young adults affected by Huntington's? Can people get help if they want it?
If we created an Acceptance and Commitment Therapy (ACT) group to support young adults affected by Huntington's disease, what are the most important things to think about?
Huntington's Disease Association services
Anne Filson 
Anne is the Team Leader of our Specialist Advisory service. Anne did a presentation about the services we offer and events that we host.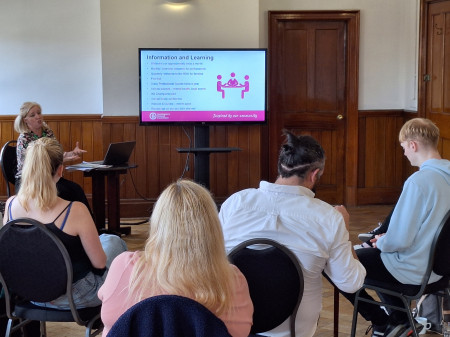 A personal perspective on testing
Alexia Hall 
Huntington's Disease Association Ambassador Alexia, shared her own story of testing, pre-implantation genetic testing (PGT) and nondisclosure testing. This led to many discussions about specific issues arising from Alexia's story.
---
Thank you to all of our speakers and those who attended on the day.