We collaborated with Dr Una Jones at Cardiff University on a number of projects to promote physical activity.
---
At the Huntington's Disease Association we fund several different research studies that aid in the support and care of people affected by Huntington's disease. Our funded research looks at how we can help people affected by Huntington's disease now, with a focus on learning about the disease and treating symptoms. 
In 2017, we started to fund a three-year study, led by Dr Una Jones of Cardiff University that aims to bring people together to develop a way for health professionals to guide and support people with Huntington's disease to keep physically active. 
Keeping active with Huntington's disease
This resource provides information and tips and hints on how to make a physical activity plan that is unique for a person with Huntington's disease. The resource was developed by researchers at Cardiff University, the Huntington's Disease Association of England and Wales, Carer's Trust Wales and carers and people with Huntington's disease. You will need to download both the booklet and the cards.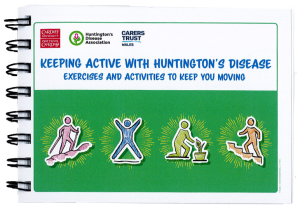 The exercises are based on the 'Move to exercise' resource that you can find below.
PAT-HD Physical activity tool 
The physical activity tool is to help people with Huntington's to think about what physical activity they could do and then make a plan to increase or maintain their physical activity over time. It was designed with people with Huntington's disease, their families, specialist Huntington's disease advisers and healthcare professionals with funding from the Huntington's Disease Association. You can use this tool by yourself to make your plan. You can also use it to have talk about your activity plans with your specialist Huntington's adviser, physiotherapist or other healthcare professional and then make your plan.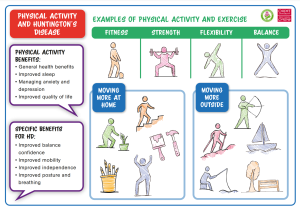 ---
Other languages
The cards and booklet has been made available in some other languages. You can download these below. If you cannot see your language but wish to view the booklet, you can view it in a range of languages by using our ReciteMe tool that you can find bottom left of our website under accessibility and language.
Physical activity stories
The purpose of this study was to create stories about physical activity in Huntington's disease. We believe that having stories of how people have become more active or kept being active will help support other people to be physically active.