Each year we come together to celebrate the incredible work of fundraisers, professionals and volunteers working to support people in the Huntington's community.
---
The Huntington's Disease Association Awards is our annual event to recognise and celebrate the fantastic achievements of those who support our work and those who support anyone affected by Huntington's disease over the past year. This year's nominees have been chosen because of their outstanding commitment to fundraising. 
We would like to thank our event sponsor FI Real Estate Management. You can read more about them below.
Young fundraiser of the year
Kara-Mai Oliver
Congratulations to twelve-year-old, Kara-Mai from Durham who has a family friend who is affected by Huntington's and wanted to show her support for them. Last September she got her running shoes on to take part in the Mini Great North Run to raise funds for our work. As a child with Downs Syndrome, autism, hyper-mobility and a new metal hip, Kara-Mai did not let anything stop her from training every evening in order to complete the 5k race with her dad. 
Kara-Mai's mum said:
"We burst with pride at Kara-Mai's fundraising efforts for Huntington's disease. She didn't just raise awareness for the charity in her home community but all over the UK through her Boxing Community. She is our inspiration, she never lets anything hold her back, showing us that no matter what your disability she has the ability and attitude to do amazing things. We hope she did the Solan Family and the Charity proud."
Fundraiser of the year (18+)
Jess Webb
Congratulations to Jess, aged 18 from Hampshire. Jess organised an astonishing three fundraisers for us in 2022 . The first event of the year was a glamorous gala evening at the Village Hotel, Portsmouth. Her second fundraiser and challenge was called 'Press Up To Push Up'. Jess encouraged 50 people in her local community to join her completing push ups for 50 days in 50 different locations.  Then during the summer month of August, she got members of her local Karate club to complete a charity bike ride on chopper bikes, 'Osska - Karate Choppers on Little Choppers' and was hugely successful in raising funds and awareness. 
To top 2022 off Jess was also selected for The BBC One Show 'One Big Thank You' appearing on the BBC One show with a short film which helped to raise awareness.
Sarah, Jess's mum said:
 "We are so proud of Jess and all her efforts for another year of fundraising. Always trying to make a difference within the HD community raising funds and awareness too. She started at such a young age and spent incredible amounts of hours working on her events, we really are in awe of her dedication and energy! Well done Jess!"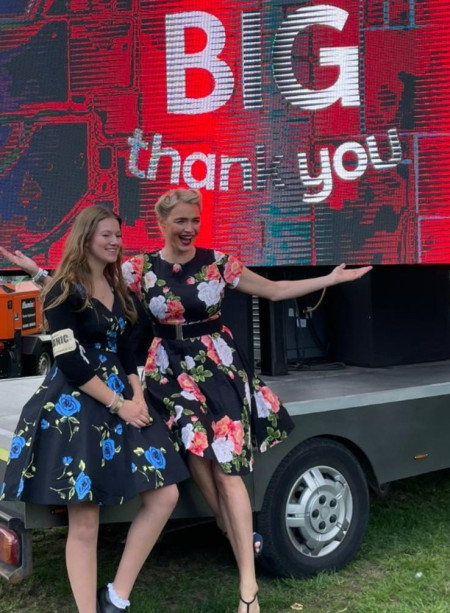 Fundraising group of the year
The HD Support Squad
Congratulations to our fundraising group of the year. The HD Support Squad are a group of friends from County Durham. Heather, Lisa, Phil, John, Emma and Jason (and some mini members too) started fundraising in 2018 as a much-loved family member of two members of the Squad has Huntington's. The Squad have worked tirelessly within their community to organise events and raise awareness. They have engaged community groups including Brandon Boxing Club and roped in friends and family to take part in walks and runs. During 2022 the squad took part in events such as the Manchester Marathon, Derwent Reservoir Dualathalon, Sunderland to Sunderland Bridge 30 Mile Hike, Yorkshire Three Peaks, Total Warrior, Vitality 10K, Great North Run and the Mini Great North Run to name but a few! 
Heather said:
"Last year we did several challenges including the Yorkshire 3 Peaks, Great North Run and a 30 mile hike from Sunderland to Durham which we got multiple friends and family involved in. We also held a fundraising day at a local pub where there are other families with Huntington's Disease. Doing things as the HD Support Squad provides much needed positivity for us and feels like we are helping to get Huntington's talked about, so that families with the disease can feel connected and know they're not alone. The things we've done, and plan to do, are a source of enjoyment and togetherness and will provide special memories for a lifetime."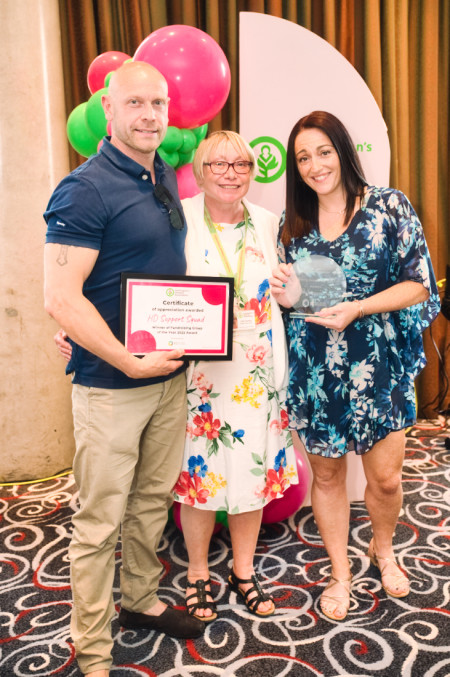 Excellence in health and social care award
This category acknowledges people working within a professional health or social care setting who make a difference to the lives of people who have Huntington's disease. 
Fiona Chaâbane
Congratulations to Fiona. Fiona is Consultant Admiral Nurse/Clinical Nurse Specialist in Younger Onset Dementia and Huntington's disease.
Fiona qualified as a registered psychiatric nurse in 1983.  She has spent the majority of her career working in dementia services in a range of clinical and managerial roles in West Sussex.  Whilst working in dementia services she developed a greater interest in younger people presenting to mental health services with cognitive disorders (including Huntington's disease) and in 2002 set up and managed a service to support this patient group and their families through diagnosis and ongoing community management. In 2014 Fiona obtained a research post at University Hospital Southampton NHS Foundation Trust working with Professor Christopher Kipps to look at ways of improving outcomes for patients and to manage a clinical caseload. In April 2021 Fiona joined Dementia UK as a Consultant Admiral Nurse and specialises in long-term community management of younger people with dementia or Huntington's disease. Fiona helped develop the care pathway for people with Huntington's disease at Southampton and is the lead contact for anyone affected by Huntington's disease. Fiona says:     
"I work flexibly to support people with Huntington's disease and their families as well as advising clinicians and other services in providing the most appropriate level of support where needed."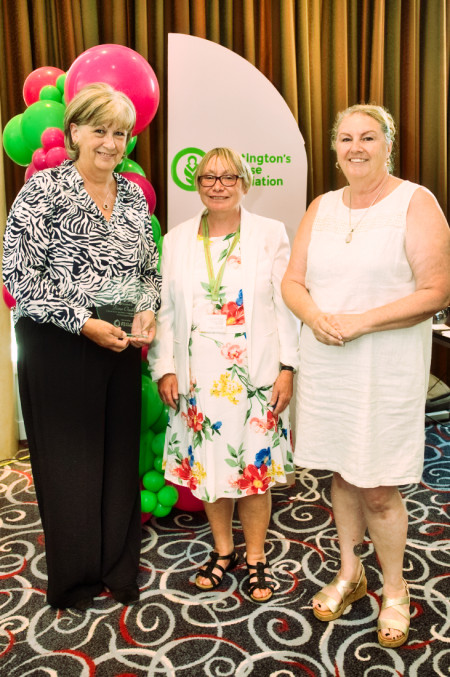 Founders Award
The Founders Award is the charity's way of acknowledging those who go above and beyond to help the Huntington's community in the same way the Founder's of the charity did back in 1971.
We are delighted to present this years' Founders Award to the Branches and Support Groups of the Huntington's Disease Association. The Branches and Support Groups have helped the charity to be who we are today. We want to recognise the incredible work they have done over the past 50+ years.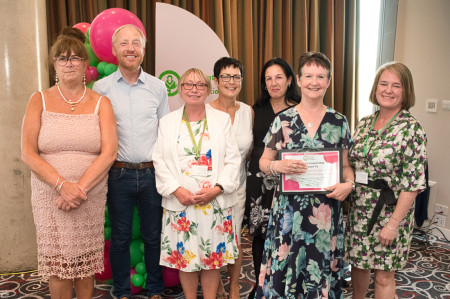 ---
2023 awards sponsor
Thank you so much to FI Real Estate Management for being this year's event sponsor.
Tim Knowles, managing director, FI Real Estate Management said:
"FI are delighted to be sponsoring the Awards this year, and to show our support for the incredible services provided by the charity to people living with Huntington's Disease and helping them live a better life."

About FI Real Estate Mangement
As one of the UK's most established names in commercial asset and property management, FI Real Estate Management operates an extensive and diverse portfolio which covers over 15m sq ft, including 6.5m sq ft of new build developments, across the nation, with assets totalling in excess £1.2bn.